Check out my newest project "When Anar Arose". I'll be switching this to my Beadwork section (and possibly also to my Etched Metal Pieces section) after a month or so.
This piece was made for the 2011 Beading For A Cure auction. The BFAC rules require that all beaders purchase the same kit and use the same beads. One additional bead may be added if the beader desires. I added a pale pink bead, but decided that I needed to brighten the entire pallete - bronze and cyclamen opal/amethyst was just not bright and vivid. I decided to switch from making a jewelry item to making one of my boxes, and having come across a wonderful box with a drop-front, I decided to make a jewelry box.
I handpainted silk for the top, giving me a vivid sunrise. One of my favorite passages from JRR Tolkien's "The Silmarillion" goes as follows:
Then Anar arose in glory, and the first dawn of the Sun
was like a great fire upon the towers of the Pelůri: the
clouds of Middle-earth were kindled, and there was heard
the sound of many waterfalls.
With the help of friends, I had the passage translated into Sindarin, and then etched it into copper. I also etched the translation into a copper plaque for the interior cover. I beaded the top, wove a rivoli (a personal Silmaril) into the etched copper disk, painted everything, made stuffed ring holders for the drop-down front, and made a jewelry box that even Lady Galadriel would be proud to own. Here are some photos for all of you who are interested to look at.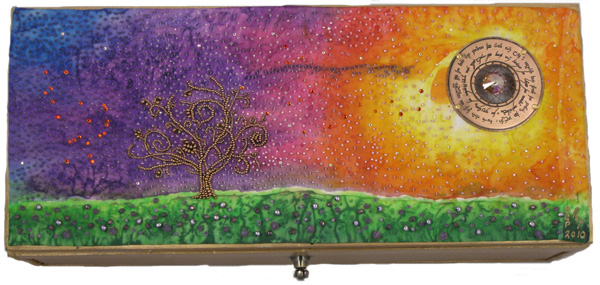 The full top is 18 inches across. The tree is in bronze - kissed by the
rays of the first sunrise. There are cyclaman opal, pearl and amethyst
beads in the flowers blooming for the first time on the ground. There
are also three constellations in red in the sky - the Watcher (Orien),
the plough (the Dipper) and Andromeda between them.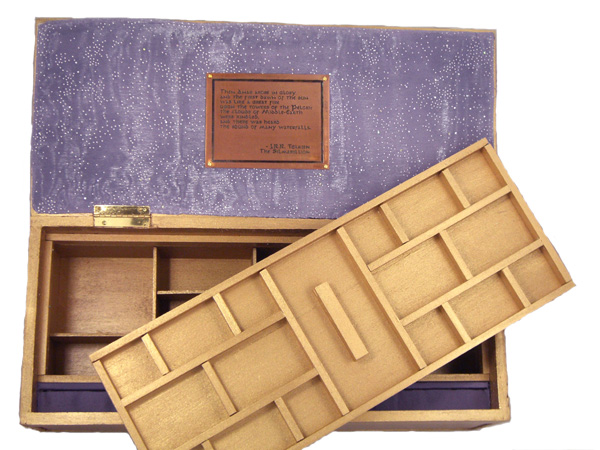 The interior of the box features a cloth of stars fabric on the inner
lid with the translation of the Sindarin on the interior copper plaque.
There are two jewelry trays, a shallow one that lifts out and a deeper
one below it. I handcrafted all of these, they are painted gold.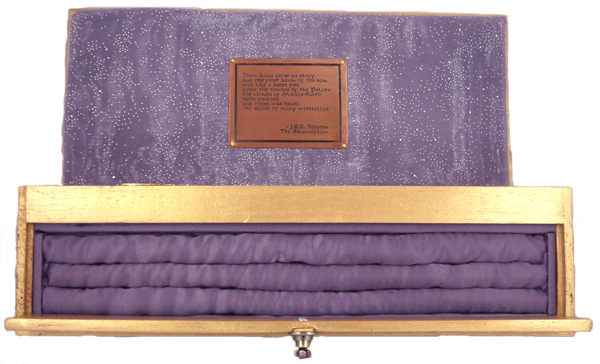 The ring keeper is in the drop front and consists of three stuffed rolls of
satin in a tray. Rings inserted between the rolls will be kept secure and
unmarred. They can be accessed without opening the larger box.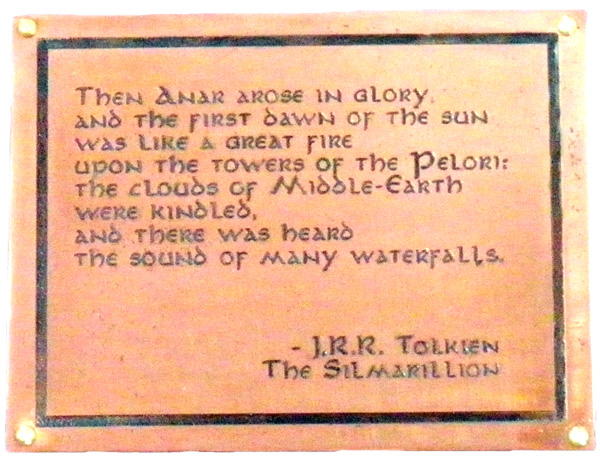 This is the inside plaque which I etched in copper. Much of my artwork
is influenced by the works and ideas of JRR Tolkien.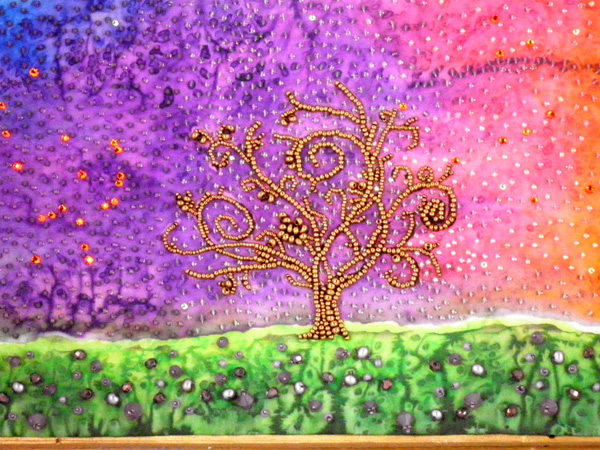 This is a closeup of the tree with the constellation of the Watcher
to the left. The colors of the beads graduate from lightest on the
right to darkest on the right.
The box will go up for auction on eBay in March/April 2011 for Beading For A Cure. Funds raised by that charity are dedicated to help eliminate colorectal cancer and are donated to help in that effort in memory of a dear mutual friend. More than 75 projects are usually donated and auctioned off each year. You can find out additional information on BFAC by visiting their website.
---
My 5-P's for Creative People
I try to live my life embodying joy and the five P's for creative people as listed here:
The 5 Pís for creative people
1. Passion
Love what you do; have enthusiasm and excitement for every part of the process. Equalize the unpleasant by giving it the same attention as the pleasant.

2. Play
Be open to approaching the usual, customary, or repetitive tasks you face in a new way. Kids do this with ease: just watch them use an empty cardboard box.

3. Practice
It is important to master your craft through repetition. Once youíve done something many times, youíll have the confidence to do it well every time you do it.

4. Patience
Trust yourself to go through a series of tasks in the amount of time each task requires. Sometimes, it is better to finish well than to finish fast.

5. Perseverance
Donít stop when you hit a bump in the road. Commit to finding a way to solve a problem in your own timeframe, and donít abandon it entirely.

I am a 50+ artist residing in Minnesota. (That's in the Upper Midwest of the United States for those of you who aren't familiar with where the US states are located). After several years working as a corporate executive, I shifted my career track and opened my own retail store in the mid-1980's. I spend anywhere from 40-60 hours a week working either at the store or on store-related activities which doesn't leave a lot of extra time for my more creative pursuits.
I realized that my stress was starting to eat me alive and that something essential was missing from my life. At that time I began attending Embellishment - the precursor to the Bead & Button Show. I started attending these shows in 1996, taking classes, meeting new friends, and experimenting with more artistic pursuits. I have been a beader and sewer for most of my life with some side-tracking to spinning, weaving and knitting. I can quite honestly say that I am a highly competent beader and I have the awards, articles and projects to defend that statement.
Over the past few years I have branched out to metalworking, enameling and the myriad techniques that can entail as well as working on improving my basic artistic skills with pens, pencils, acrylic paints and watercolors. I want to share some of my work with you. I also want to introduce you to some of the creative people I've been privileged to meet over the years. If you would be interested in following my own exploration through daily life and creativity, you are welcome to read my blog. I try to post six days a week on the blog whenever possible.